Reviews for Mommy, Daddy, I Had a Bad Dream!
The Ben Franklin Award from the Independent Book Publishers Association gave the First Place in the Children's Picture Book Category to Mommy, Daddy, I Had a Bad Dream!
Mommy, Daddy, I Had a Bad Dream! was recently awarded
2012 Best Children's Book by Sharp Writ Book Awards.
Here's what the judges said about Mommy, Daddy, I Had a Bad Dream!
This is a very perceptive book written for young children. It explains how to turn the experience of bad dreams into something that helps a child grow mentally in terms of figuring how why the bad dream happened.
This is a wonderful book, contains excellent art work, and an interesting tool. My young audience was fully drawn in while having the book read to them. I have no negative thoughts about this work, nor did my young audience.
Really good advice written in a way even kids can understand. I wish my parents had this book when I was young.
Bergers Book Reviews gives a glowing review and highly recommends Mommy, Daddy, I Had a Bad Dream! on their site. Read Review.
BREAKING NEWS!!!
Mommy, Daddy, I Had a Bad Dream! won in two categories of the 2012 USA Best Book Awards:
Best New Children's Picture Book
Children's Mind/Body/Spirit
YourKidsEd features the article Teaching Children to Put Bad Dreams to Rest, featuring the Smart Love Press book Mommy, Daddy, I Had a Bad Dream!
That Book You Like… Blog Features Mommy, Daddy, I Had a Bad Dream! in their Helping kids section
The Midwest Book Review featured Mommy, Daddy, I Had a Bad Dream! in the July, 2012 Children's Bookwatch: The book "is a read-aloud children's picturebook about an anthropomorphic joey (young kangaroo) who is plagued by terrible dreams. At first he runs to his parents, who teach him more about dreams and what causes them. "Dreams are stories we tell ourselves for a reason. We just have to understand the reason. Are you upset about something that happened today?" Eventually the joey learns to identify the causes of his own dreams, and no longer feels the need to run to Mom and Dad every time a nightmare wakes him up. A number of other anthropomorphic Australian animals also appear in thie heartwarming and highly recommended bedtime story with a valuable lesson for little ones."

2012 Gelett Burgess Children's Book Awards Winner!
The prestigious Gelett Burgess Children's Book Award highlights excellence in family-friendly books covering the broad expanse of a child's existence, helping them grow: socially, emotionally, ethically, intellectually, and physically. This list is promoted throughout the year to parents, educators, librarians, and youth service workers in the United States.
Mommy,Daddy, and I had a Bad Dream! A 2012 BOOK OF THE YEAR AWARD entrant, Kids Storybooks category
"The products submitted for the awards are reviewed by moms and early education professionals. Over a hundred reviewers meet for an organized 2-day review event held in Henderson, Nevada. Only one product per category can win a Book of the Year."
Award-Winning Finalist in the Children's Picture Book: Hardcover Fiction Category of the 2012 International Book Awards. "The 2012 results represent a phenomenal mix of books from a wide array of publishers throughout the world."
The Independent Publisher Book Award Bronze Metal in the National Category of Children's Picture Books (see #24) Nearly 5,000 books in all categories!

Mom's Choice Awards awarded their Gold ranking to Mommy, Daddy, I Had a Bad Dream! for being among "the best in family-friendly media, products and services" in the category of Children's Picture Books.
Independent Bookstores Across the Country Voted Mommy, Daddy, I Had a Bad Dream! to the Summer 2012 Kids' Indie Next List — "Inspired Recommendations for Kids from Indie Booksellers"
"5 Stars… I wish I would have Mommy, Daddy, I Had a Bad Dream! when I worked with kids. The story is engaging and visually appealing. This is not a message book. Joey is not dealing with anything right or wrong. The story helps parents and kids deal with a terrifying experience—nightmares. The story offers kids empathy through the parents. How wonderful is it that Daddy is handling things, helping his son understand what is happening?
Your child will adore the many characters in the illustrations. If your child experiences nightmares, he or she will adore Mommy, Daddy, I Had a Bad Dream! for the easy to learn technique that will have them once again peacefully sleeping all night. If a bad dream should occur, your child will have the steps needed to figure out why such a dream disrupted their sleep. Knowledge is power. Mommy, Daddy, I Had a Bad Dream! can give your child the power to calmly deal with bad dreams, through Joey's story." Read More
"This is a wonderful child rearing tool for when children are frightened by nightmares. A young kangaroo, Joey, awakes and runs to his parents' bed to tell them of his bad dream. Each time he does so, his parents reassure him and walk him through a logical process that focuses on remembering what he may have done or experienced earlier that could have caused the bad dream. Eventually, he doesn't need to run to his parents any longer, but goes through the same process on his own, feels reassured, and goes back to sleep. This process gives a child much more control over his life.
The illustrations are almost museum grade. The text is written in an understandable manner. Children and parents will identify with the story and learn from it. We graded this picture book five hearts."
– Bob Spear, Publisher, Chief Reviewer Heartland Reviews
"The majority of children's picture books follow a common pattern of presenting more than one theme, one of which is overt while the other is an underlying or a teaching message. With Martha Heineman Pieper's Mommy, Daddy, I Had a Bad Dream! the primary story focuses on Joey, a bouncy, happy Kangaroo that is having a series of nightmares, which, as she demonstrates, can be attributed to various common happenings in a child's life such as sibling rivalry, being sick, having to go to bed, and having a dispute with a good friend. Incidentally, as Heineman points out in an interview I conducted with her, there are very few children's books dealing with the topic of bad dreams and those that do exist don't really deal with it in a serious manner.
In the first of these night terror episodes, Joey is not permitted by a Judge Cass O. Wary to have for three days his favorite dessert, apples with honey. Joey frantically scampers off to his parent's bedroom hunting for an answer as to why he had experienced such a nightmare. His parents immediately try to comfort Joey by encouraging him to think about his dream and they then proceed to explain that "Dreams are stories we tell ourselves for a reason. We just have to understand them."
Joey is then asked if there was something that happened to him that made him upset. Pondering about this for a moment, Joey remembers when his mommy wouldn't play with him because she had to feed his baby sister and he wished that his baby sister would go away. Joey learns, after he reveals his thoughts to his parents, that it is not unusual for children to feel angry when a little sister or brother takes mommy's and daddy's attention. And you can be angry, yet still love them all the same. Perhaps, Joey felt guilty about feeling this anger which may have been the cause for this bad dream and the punishment he received from the judge.
The second nightmare involves being locked out of his house and here once again his parents go through the same steps in investigating what may have provoked the nightmare. Joey now begins to understand the reasoning process as to why he is experiencing these dreams. By the third nightmare he succeeds in working out on his own the reason for his bad dream. And By the last dream, Joey is even able to deal with the situation alone without having to run to his mommy and daddy, and is able to fall happily back to sleep.
Martha Heineman Pieper passes with flying colors her teaching of nightmare-coping skills to children with her- kid friendly language. This is quite a feat, as often, when it comes to the message picture books try to convey, authors are either aiming too high or low. And moreover, the message is sometimes murky, particularly when we have adult preoccupations creeping into what is supposed to be a child's world of thought.
Reinforcing the reassuring qualities of the story, Jo Gershman's illustrations are effectively handled, helping children better understand the story with their soft colors and expressive faces of Joey and his parents. In addition, they are lively and memorable, inspiring the story with a great deal of warmth and vigor.
Martha Heineman Pieper received her Ph.D. from the University of Chicago and her undergraduate degree from Radcliffe College. She is an experienced psychotherapist who also provides consultation services to mental health clinics, psychotherapists, schools, and parent coaches. She has devoted her professional life to helping children and families find happiness. Her work is the foundation for the non-profit agency, Smart Love Family Services, which provides a broad spectrum of counseling and educational services to children and families. With her co-author, William J. Pieper, M.D., she wrote the bestselling parenting book Smart Love: The Comprehensive Guide to Understanding, Regulating, and Enjoying Your Child and the popular adult self-help book, Addicted to Unhappiness.
Jo Gershman's illustrations have appeared in over thirty-five children's and adults' books. Her watercolors and illuminated manuscripts are in private collections around the world."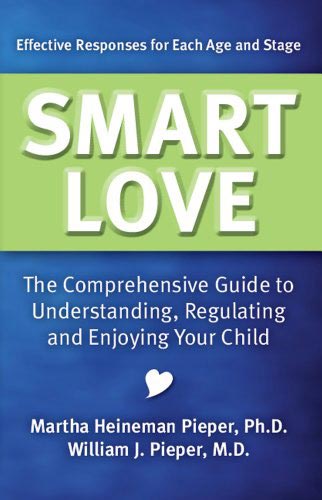 Reviews for Smart Love, A Comprehensive Guide to
Understanding, Regulating and Enjoying Your Child
"The Piepers have written an important book. Smart Love combines research and common sense and gives us fresh perspectives upon which to reflect and act."
– Sharon L. Kagan, Ed.D., Senior Associate, Bush Center in Child Development and Social Policy, Yale University
"I wish I'd had Smart Love when my children were young, but I'm glad I have it now. A must-read for anyone trying to be a smart and loving parent."
– Susan R. Estrich, Robert Kingsley Professor of Law and Political Science, University of Southern California
"Smart Love is an invaluable guide for every moment of the exciting and awesome task of being a parent."
– Elisabeth Bing, cofounder of Lamaze International
"This is a book with a warm and embracing feel and style. The Piepers advocate a positive parenting approach that encourages parents to enjoy their children."
– Linda A. Braun, Executive Director, Families First Parenting Programs
"Smart Love is a terrific book of practical tips, psychological insights, and wise childrearing philosophy. Everyone who is smart enough to read Smart Love will have a much better idea of why babies to adolescents do what they do and of how to steer a peaceful and loving course through the daily and sometimes perplexing challenges of parenting."
– Joan Ganz Cooney, cofounder of Children's Television Workshop and originator of "Sesame Street"
"If you are a parent who is committed to raising a responsible and compassionate child, you need to own a copy of this book."
– Kimberley Clayton Blaine, M.A., M.F.C.C., Children's Institute International
"Smart Love offers up sound common sense and confident parenting. And it works!"
– Sheila Kitzinger, author of Tough Questions: Talking Straight with Your Kids About the Real World
"Martha and William Pieper focus on every parent's desire: the happiness of their children. They recognize that the best thing parents can do to achieve that goal is to provide love and attention in ways their children can understand and use. They encourage the long-term view of development that speaks to children's deep feelings of worthiness rather than to the here-and-now of how the child is behaving. The Piepers' approach to parenting makes the process easier and more pleasurable for both children and parents. This book is a great overview as well as a resource for solving problems."
– Barbara T. Bowman, Irving B. Harris Professor of Child Development, Erikson Institute and Chicago Public Schools Chief Early Childhood Education Officer
"This seminal book should be in the hands of all parents who wish to raise caring, responsible, and secure children. The Piepers bring much clarity to the debate on parenting for the twenty-first century."
– Marshall H. Klaus, M.D., and Phyllis H. Klaus, M.Ed., C.S.W., authors of Bonding and Your Amazing Newborn